STRUCTURAL MONITORING SAVES THE
KANSAS DEPARTMENT OF TRANSPORTATION $2,000,000
The riveted plate girder bridge on US 24 was constructed in
Pottawatomie County, Kansas,
in 1947. A visual inspection indicated the deck and bridge
railing should be replaced.
Structural Integrity Systems, LLC, monitored the structure to
determine if the condition of
the steel girders warranted the
replacement of the bridge. The
data gathered indicated that the
structure was a candidate for rehabilitation. Replacing the deck
and widening it to 13.4 meters will save the Kansas
Department of Transportation
close to $2,000,000 over the cost of an entirely new bridge.
The monitoring of the bridge took place over an eight hour period. The picture below and to the left shows the On-Board computer, radios and back-up power supply for the temporary monitoring.
The photo on the right shows the structural engineers from Structural Integrity Systems, LLC, remotely downloading the real time data via radio.
If you would like some data examples from this project, please contact us at the number below.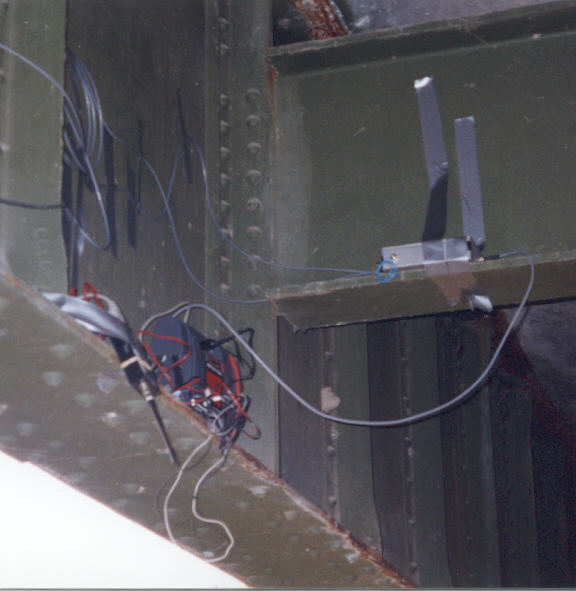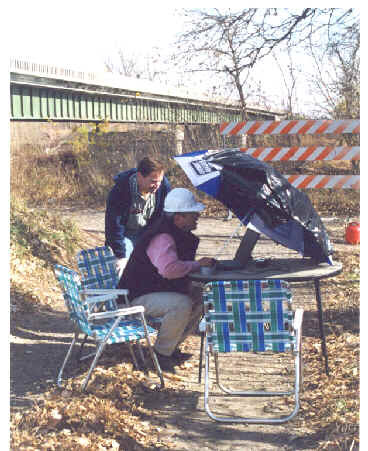 Projects

Sundial Bridge California
Rolling Bascule Florida
Royal Park Bridge Florida
South Broadway Overpass Kansas
US 24 Pottawatomie County Kansas
Shawnee County Bridge Kansas
Kemper Arena Construction Missouri

Please call and talk to us concerning the monitoring of bridges, buildings or other structures.
Thank you for visiting our web site.

Monica L. Svaty
Chief Executive Officer

Karl J. Svaty, Jr., PE, SE
President/Manager

316.634.1396
(NEW TELEPHONE NUMBER)

http://www.structuralintegritysys.com

U.S. Patent No. 5,421,204
U.S. Patent No. 5,507,188
Canadian Patent No. 2,163,653
all contents of these pages ©1996 Structural Integrity Systems L.L.C. 5.96

Best viewed with Netscape 2.0 or higher.